Parquet Oak Dancefloor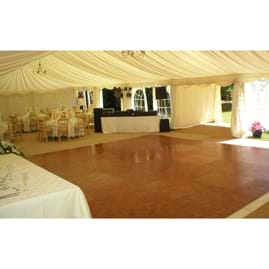 The oak parquet dancefloor looks fantastic in any function room.
A very traditional dance floor for hire that will never go out of fashion. This is a very elegant and has a beautiful surface to dance on and is one the cheapest dance floors available yet look absolutely stunning at any event and in any setting. This traditional dancefloor can be partnered with some of the most elegant venues in the country to create that stylish traditional look. We have experienced high demand for this item at events throughout the country. This deeply polished real wood dance floor can be professionally installed to almost any size desired and comes in different dimensions so can make up any sized dance floor. We complete the entire edging of the dance floor with a sloped aluminium trim to ensure the dance floor is trip proof. The parquet dancefloor is available for long or short term hire. Whether you require a dance floor for one day, a weekend, a month or a longer term, we would be only too happy to help. Contact one of our sales team today to find out more and prices.
Related marquee equipment & furniture for hire