The last year, and something new for this!
Posted on Thursday 03 June 2021 by Alexander Hire
Well after a completely lost year, the events, catering and hospitality sectors look like they are finally starting to awaken from a long hibernation. We have managed to last the distance and we are still here to assist with all your event requirements.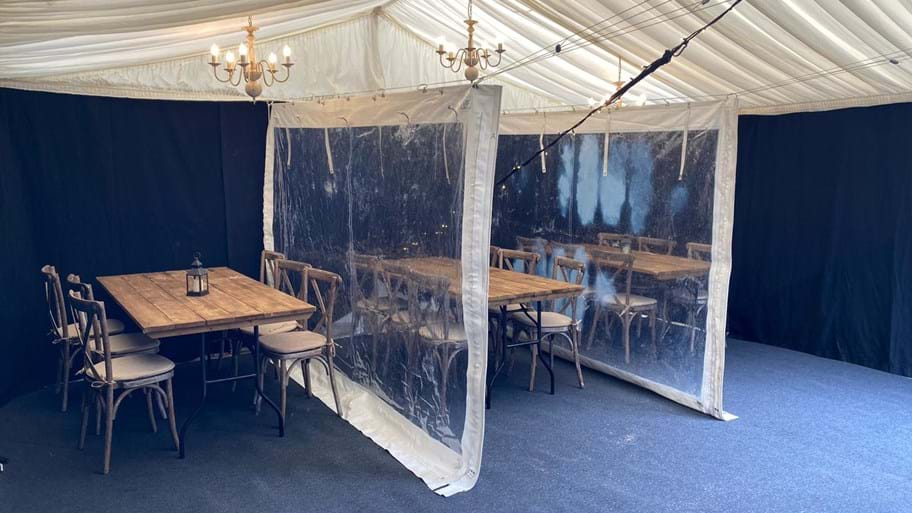 At Alexander's we have managed to weather the storm and are here and ready to serve our existing and new clients both industry-based and the general public.
Thanks to our nucleus of key imaginative and hardworking staff we adapted early to the changing landscape and started to supply to new clients who required marquees and event hire to ease the new situations we all found ourselves in and to comply with advice and guidelines.
It was good also to see some of our long-standing clients adapt and innovate also, locally Richmond Athletic and Barnes Community Associations both revised and rescheduled their largest events of the year the Rugby sevens tournaments and Barnes fair respectively, whilst St George's Lawn tennis club were early adaptors of outside being the new, in erecting marquees and structures for gyms, holistic zones, aerobic excessive, dining and much more.
We never really thought our services would be useful to such other businesses before, but we found ourselves able to assist a disparate selection of other sectors including veterinary, butchers shops, vaccination stations, gymnasiums, testing centres, dance studio garages etc to name a few as well as the expected pubs, restaurants, schools and universities many of whom were already long-established clients.

We are now looking forward to what we are expecting to be an extremely busy summer, it seems that everything that was postponed our customers wish to reschedule into a few summer months which is going to be a challenge. At Alexander's, we worked with our clients through the difficult times returning full deposits to all of those whose events were unable to proceed, whilst working with others who preferred to keep their bookings and reschedule for later dates.
As such we now have a remarkably busy time to look forward to with demand and bookings for many items including outdoor heating, barbecues, marquees, furniture and catering equipment hire not seen before so early in the season. We also have our new range of rustic furniture including tables, cross-back chairs and bars, this look is proving to be very popular with everyone.
We have noticed that many venues now have more events per week as the backlog of events that did not happen are now being addressed, a Wednesday wedding or a Thursday thirtieth is the new normal and what is not to love, every day is a party opportunity now.
Looking beyond what is obviously going to be a hectic time we have embarked on a new venture.
On the first three weekends in December (Thursday to Sunday inclusive being the new weekend), we will be bringing to leafy southwest London the Richmond Christmas Village.
The concept being we will bring together all in one place what one would perhaps expect from a trip to the village, a chance to meet up with friends, share a glass or two, enjoy some quality food and be entertained whilst also having the opportunity to pick up some gifts from our handpicked retailers, but there's a difference, this village is unique as it will be housed in a giant Christmas decorated Marquee that will be warm and dry.
So make sure to follow us on social to keep up with events and more information will be forthcoming. We look forward to seeing you there.